Robotics and STEM are important subjects that kids should be familiar with before they transition into adulthood. Early STEM learning prepares kids for the future ahead, which is purely digital. Science, Technology, Engineering, Arts, and Math are rapidly taking over the world; people with technical and digital skills are paid a significantly higher sum compared to their contemporaries.
Kids who stay current in these digital trends will have an edge over their peers. They are also more likely to earn bigger than non-technical workers. In addition, STEM skills will naturally boost their performance in other subjects as well. Quantitative reasoning, computational thinking, problem-solving, and creativity, are some of the many benefits of teaching programming, robotics, and STEM to kids.
Robotics for middle schoolers highlights the basics of robotics, sequencing, algorithm, debugging, programming languages, etc. This article gives an in-depth overview of robotics for middle school kids, as well as how teachers can effectively teach robotics to kids.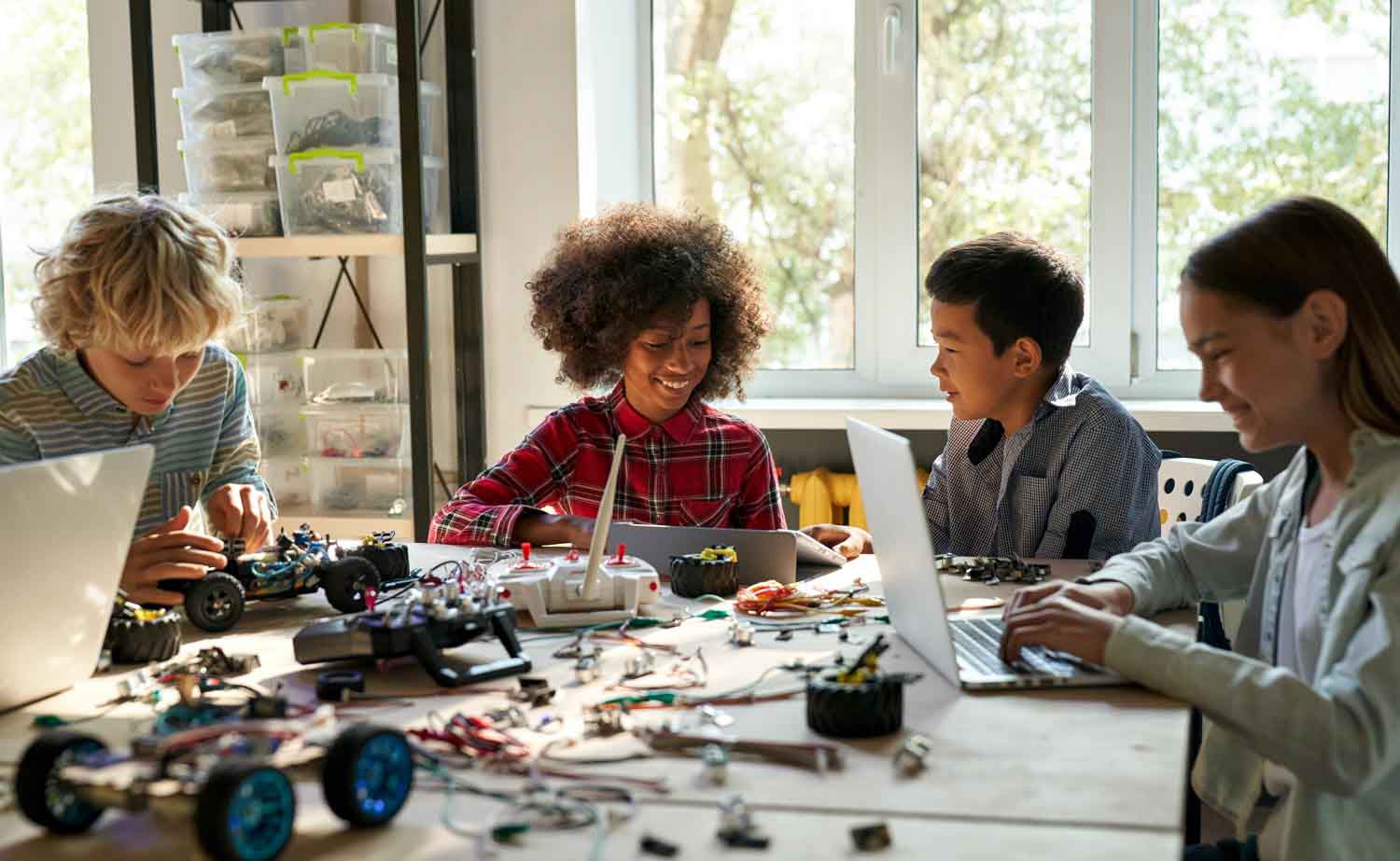 Overview of Robotics for Middle Schoolers
Middle schoolers are within the 6th-8th grade, and that includes kids between the ages of 11-13. They are beyond their formative stage, and it is expected that they understand the basics of robotics and coding. This, however, is not a prerequisite, as robotics for middle schoolers is beginner-friendly and easy to understand.
The curriculum highlights the basic tenets of robotics and programming. Using hands-on activities, and simple robotic projects, like building a mobile robot, middle schoolers will be firmly rooted in robotics. Robotics for grades 6-8 will also equip kids with the necessary skills they need to build a career in robotics and coding.
Robotics is also a great way for middle schoolers to get started in STEM. Teachers can employ specific robotic STEM kits for middle school kids to learn robotics and STEM. Some of the best robotic kits for middle schoolers include the LEGO Boost Creative Toolbox, UBTECH Jimu Robot, Sillbird STEM Building Blocks Robots for kids, etc.
Robotics for kids is a wide subject, and instructors must use the right materials for their kids. Employing a structured programming guide for kids helps narrow the scope to focus on kids' learning capacity at every stage and blend their curriculum to fit into a particular capacity. Teaching kids robotics outside their learning capacity will render learning effective and difficult for kids. This is why there are several robotic learning tools across various grades for kids.
All About Teaching Robotics to Middle-Aged Kids
Robotics for 6-8 grade is primarily designed to introduce kids to the concept of Science, Technology, Engineering, Arts, and Math (STEM). There is unlimited availability of robotic courses and tools for middle schoolers. Robotics programs for middle schoolers offer hands-on experience with robotic kits. The curriculum also blends theory with practice to ensure kids get the best out of robotics and programming.
Robotics for middle schoolers prepares them for the next learning phase which involves advanced robotic and programming lessons. Robotics for middle school kids educates kids on the importance of teamwork and collaboration. Using practical examples, kids will engage in healthy competitions and teamwork. They will also learn critical thinking, problem-solving, and computational thinking.
Robotics for middle school boosts kids' computer skills. They will learn how to program a robot on a computer and other devices. This will boost their performance in performing basic and intermediate tasks on the computer.
Through robotics for 6-8 grade, kids will understand the basic features of a robot, like a gripper, actuators, wheels, etc. They will also learn about the different types of robots and how to program them. In other words, robotics for middle school creates an opportunity for kids to build their interests around robotics, electronics, and STEM.
Curriculum and Programs for Middle School Robotics
Here is a list of structured guides on how to teach robotics to middle schoolers:
Basics of Robotics
Using the available lesson guides and materials, teachers can guide kids through the definition of robotics. They will also give a detailed explanation of the importance of robots in society, as well as the components of a robot. This curriculum also includes the importance of programming in robotics, with a practical example of a smartphone control robot, a duct cleaning robot, a pick and place robot, etc.
Importance of Gripper in Robotics
After comprehensive learning of the basics of robotics, middle schoolers will learn how to build a gripper robot that executes tasks such as picking and placing objects, etc. The process involves a servo motor and acrylic parts, after which kids will program their gripper robot using PictoBlox. There are lesson resources and guides for teachers on the process of teaching their students how to build a gripper robot.
Capstone Project
Teachers can also engage their kids on various robotics capstone projects. The capstone project images kids building a light censored robot. The robot will also be able to perform simple actions like moving forward, backward, front, etc. To begin this program, teachers will need to download the PictoBlox app, and the Dabble app to program the robot wirelessly. They will also need to purchase the STEM classroom bundle, which can be used by up to 30 students.
These structured robotics programs for middle school kids encompass subjects in robotics, programming, science, electronics, mathematics, and technology. Kids will also engage in hands-on projects and see immediate results. This will boost their eagerness to learn more, and encourage them to participate in bigger projects.
Robotics for middle schoolers will also develop other technical and digital skills for kids, including computer skills, computational and advanced thinking, creativity, problem-solving, and teamwork, among others.
Best Robotic Kits for Middle Schoolers
Check out our compilation of the 5 best robotic kits for grade 5-6.
Morwant STEM Remote Control
Made from non-toxic ABS plastic for kids, the morwant remote control robotics kit is designed to provide kids with maximum fun using a remote control. The kit contains 326 pieces to build two distinct racing cars that can be controlled using a remote control.
Primary areas of learning with this kit are science, engineering, problem-solving, and creativity. The morwant STEM remote control can be used by two or more people. It builds teamwork and encourages healthy competition among learners. Kids can have maximum fun while learning how to program an actual racing car. It is perfect for middle schoolers and pre-teens.
Sillbird Building Blocks Robot for Kids
STEM acquisition is the primary learning objective of robotics for middle school kids. The Sillbird building blocks robot educates kits on the rudiments of STEM. The robot can be controlled with a flexible remote and a programming app. The different parts of the robot, such as the eye, hands, eyebrow, etc., are all movable with remote control.
In addition, kids can program the robot to move in any direction. This kit is a combination of robotics and programming. The hands-on activities help build confidence in kids.
Lego Boost Creative Toolbox
This STEM kit contains up to 847 pieces kids can use to create five robots. The five different robots kids can build with Lego creative toolbox include an automated assembly line robot, Frankie the Cat, Vinnie the Robot, a rover car, and a semi-functioning guitar.
The creative robotic toolbox is highly compatible with specific NINJAGO and Lego City kits. Kids can also connect the kit to the Boost app which can be used on almost all devices, including Android, Smartphones, Windows, iOS, Tablets, and Kinde.
Kids can build almost anything with the Lego Creative Toolbox. The app also focuses on teaching kids the basics of coding, before moving to more advanced concepts
Lego Creator Robo Explorer
This is a 3-in-1 robotic toolbox that allows kids to build a green-eyed robot, a robot dog with a light-up jet pack, and a robot bird with light-up eyes. It builds hand/eye coordination in kids and boosts creativity and critical and creative thinking.
The features of the Lego Creator Robo include claws, a rotating body and head, a searchlight, and green eyes.
NAO Robot
This is a great STEM robot for middle schoolers. Kids can learn all about programming and robotics. It comes with a complete curriculum on how to teach kids coding and robotics, as well as several hands-on robotics projects.
Frequently Asked Questions
What are things to learn from robotics in middle school?
Robotics in middle school offers kids a wide range of opportunities for career development, in robotics and other STEM-related fields. Primary skill acquisition from middle school robotics includes programming, computer science, teamwork, creativity, and problem-solving.
What is robotics for students that are in 6th grade?
For students in grade 5-6, robotics learning will focus on performing simple robotic functions, like moving a robot, sending it on errands, programming with a remote, etc. robotics for 6th grade also surrounds STEM acquisition, and the robotic curricula are designed to equip kids with basic STEM and robotics skills.
How can you start robotics in middle school?
There are various ways you can start robotics in middle school. The most recommended, however, is to learn using robotic kits. The kits combine hands-on structured learning to ensure you have a solid foundation in robotics and STEM while having maximum fun with your friends.
Summary of Robotics for Middle School
Robotics for middle school is great! It follows current digital trends that aim to equip kids with robotics and programming skills. The future is STEM, and robotics offers the perfect avenue for a solid STEM foundation for kids to thrive in their chosen careers.
More Inspiration for Robotics for Kids
Why Kids Should Learn Robotics
Robotic Platforms for Kids
Show and Tell Ideas with Robotics for Kids
---
Many of the links on this blog are affiliate links. CodingIdeaswithKids.com receives a small comission when certain items are purchased, but the price is the same for you. CodingIdeaswithKids.com is a participant in the Amazon LLC Associates Program, an affiliate advertising program designed to provide a means for sites to earn advertising fees by advertising and linking to Amazon.com.