In this post, I wanted to share with your my honest review of our family's experience with Code Ninjas so far and whether it was worth the price tag. With modern technology all around us and being inundated with self-driving cars, home assistants, and smart watches, it's a great time in teaching kids technical literacy which can open them up a world of possibilities and creativity. One of the ways that you can teach kids is by instructor led courses, like at Code Ninjas.
Code Ninjas Overview
Code Ninjas is one of many companies that have instructor led and self-paced programs that teach kids how to program and code. Code Ninjas is a company that has various centers around the country that sells itself on being able to teach kids how to code. If you have ever seen their sign, if you are anything like me, you may have thought that it was a martial arts school. For clarity, their program is set up similar to martial arts in allowing students making it to the next "belt" as they continue in their expertise.
I only learned that it was a computer programming instruction after our girls were told by their Girl Scout troop that Code Ninjas was supporting an hour of coding. For my nine year old (third grade) and ten year old (fourth grade) girls. I am so glad that their Girl Scout troop leader told us about the opportunity because I love the initiative of getting more girls interested in STEM.
An Hour of Code
While I have a career in big tech, I have very fundamental knowledge when it comes to programming and coding. It was just recently that I learned the differences between object oriented programming. When my girls attended an hour of code, I was really interested on what platform they would be teaching the students in because I know formally what platforms the developers on my team used.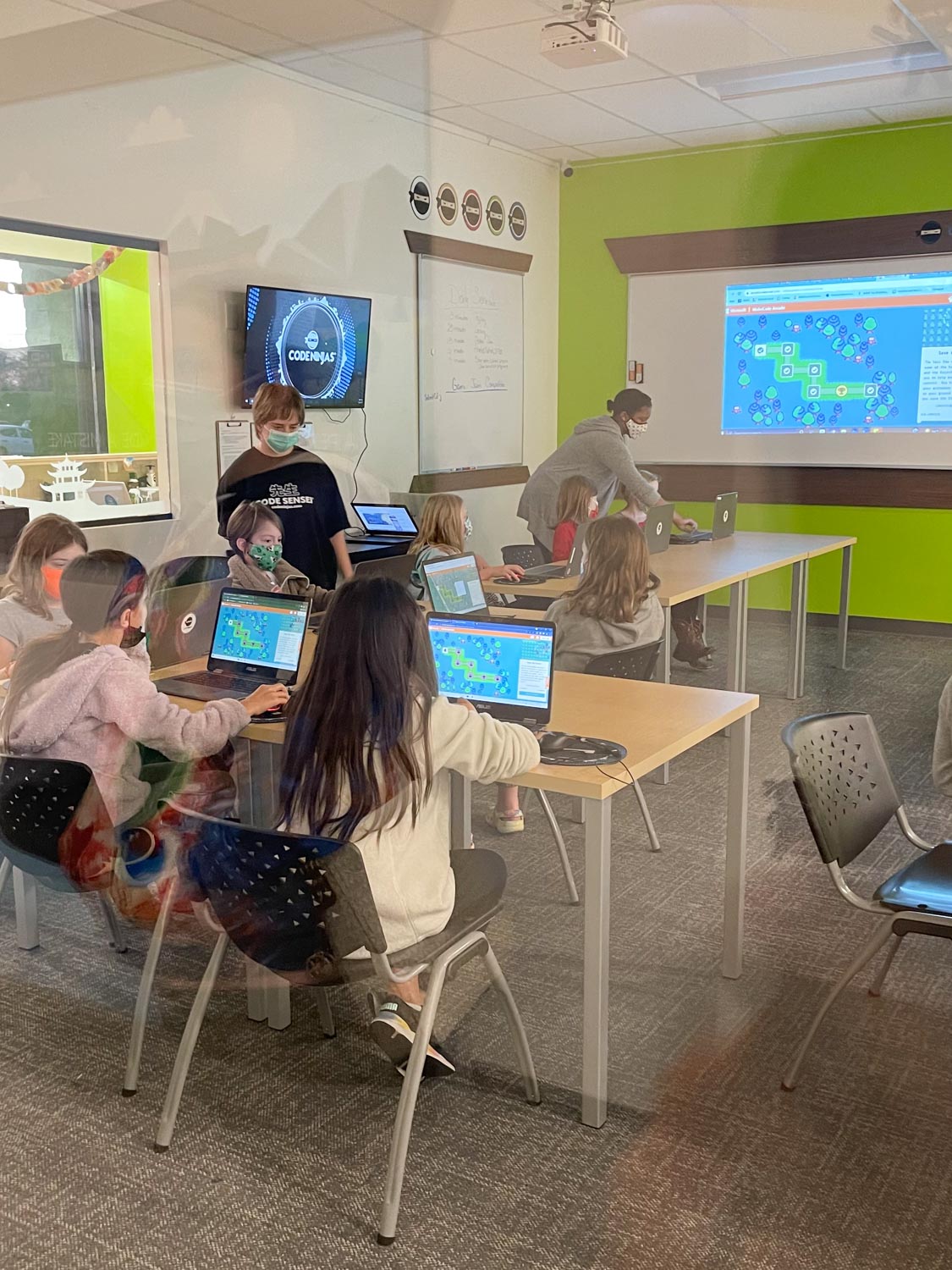 I was familiar with Scratch programming platform, which is block coding, which was built by MIT. I was suprised that the girls were introduced to MakeCode, which is a block coding platform built by Microsoft. The kids learned how to create forest pathways using block code, which is pretty incredible in less than an hour.
I also loved that Code Ninjas used a free platform that they could access right at home. The girls loved it. They loved how hands on their Sensei's was on. So for an hour of introductory block coding, I would highly recommend it.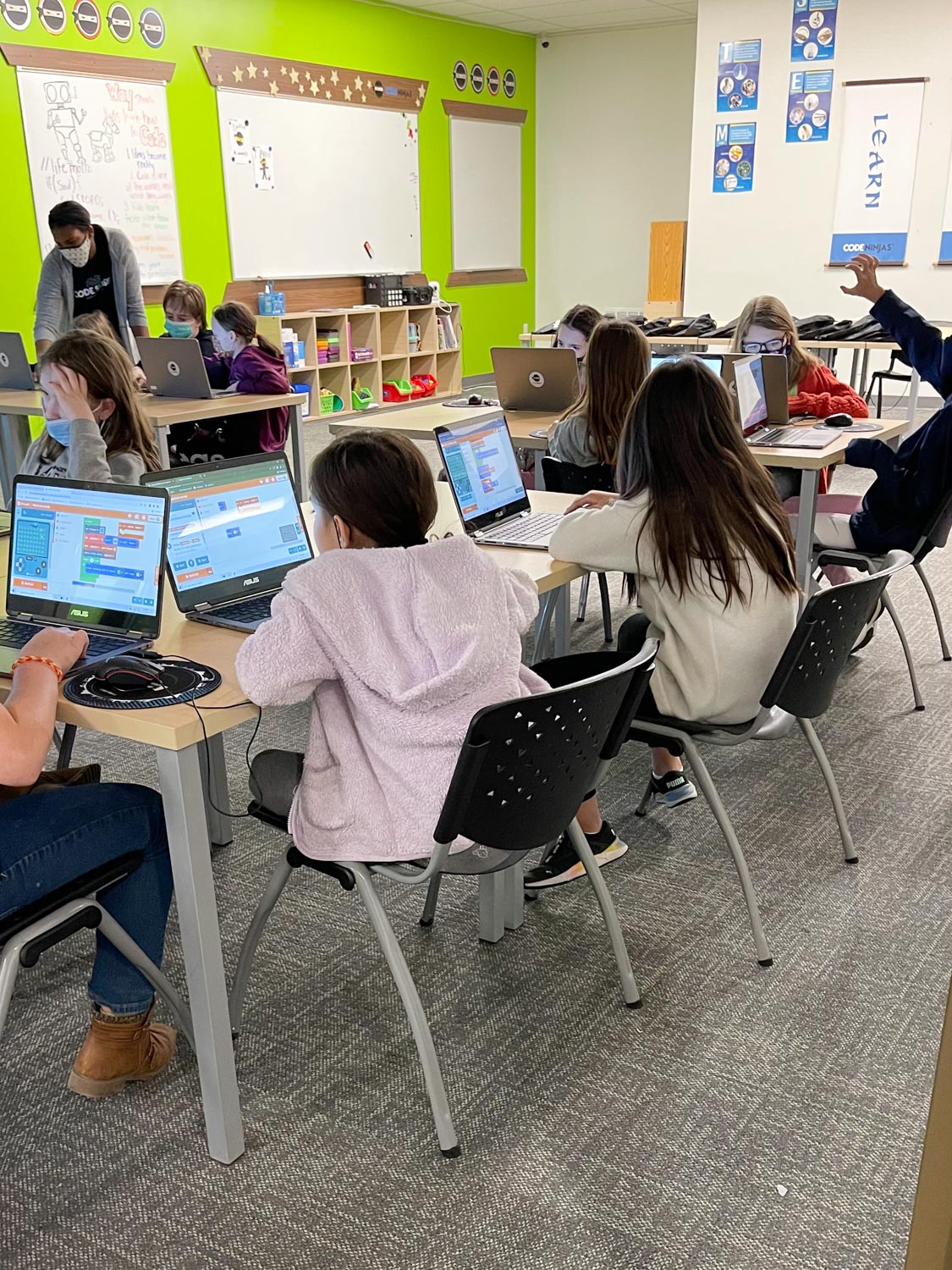 Minecraft 2-Day Coding Camp at Code Ninjas
After that experience, a few weeks later I signed them up for a 2 day coding camp at Code Ninjas during their winter break from school. This coding camp would teach them how to design modifications with Minecraft that they could manipulate, and the goal was to teach them how to learn procedures, conditionals, and variables.
Review of Minecraft Coding Camp at Code Ninjas
It was pretty expensive for being an 8:30 - 3:30 session, each session was around $80 a day, which was pretty pricey considering daycare for a week for my five year old is around $120 a WEEK!
On the first day, the girls said that they were introduced to Minecraft and were allowed to play most of the day. They said that there were a higher ratio of boy to girl students (4 girls vs 11 boys). They said they didn't really learn much on Day 1.
On the second day, they were introduced to Minecraft Java. They said they didn't really learn "coding", which to me meant that they were having more fun gaming than realizing they were learning Java.
Recommendation of Minecraft Coding Camp at Code Ninjas
In the end, both the girls and I would not recommend Minecraft Coding Camp unless your kids are really into Minecraft.
JAVA (which they already knew) the first day. The second day, they said they were introduced to making modifications.
Roblox 2-Day Coding Camp at Code Ninjas
In the same week, we signed up the girls for a Roblox camp where they learned the basic of creative development and building games for the online gaming platform. For those that don't know what Roblox is, it's pretty much an online gaming platform where kids can choose from a variety of games they can play.
My girls were really excited about this part of camp because they really enjoy Roblox over Minecraft.
Review of Roblox Coding Camp at Code Ninjas
On the first day, they went through Roblox Studio, which is where you design the games. They went through the navigation and came home with their USB drive full of the work they did. We were able to open their games and look at their work, which was pretty neat.
On the second day, they went deeper into designing games and developing out their games. They even did some text scripting as part of the camp.
Recommendation of Roblox Coding Camp at Code Ninjas
We would highly recommend this camp if your kids love Roblox! As a matter of fact, as I'm writing this post, my ten year old is designing a game on Roblox Studio because she loves it that much. She's making a game that her little brother can play that involves sliding down a waterslide into a pool.
Available Programs
Outside of the camps, Code Ninjas has regular programs that they offer year round.
Code Ninjas has three programs: Juniors & Clubs Monthly ($139), Create Gold Monthly ($239), Create Platinum Monthly ($339).
Juniors & Clubs Monthly allows you to meet once a week and you can choose to have instructor led or self-paced courses. Create Gold Monthly allows you to meet 2 hours a week with flexible scheduling. Create Platinum Monthly allows you 4 sessions a week that includes day camps, free parents night out, and 2 free summer camps.
I would say that if you only do an hour a week, it should be a location that is convenient to you and you are wanting something that is instructor led. Otherwise, I would save the drive and have your kids watch YouTube videos and follow along using Scratch or MakeCode tutorials there are available online. Also, if your kids are into Roblox, Minecraft, or LEGO Robotics, doing the one hour session would be worth it because it allows your kids to have instructor led sessions.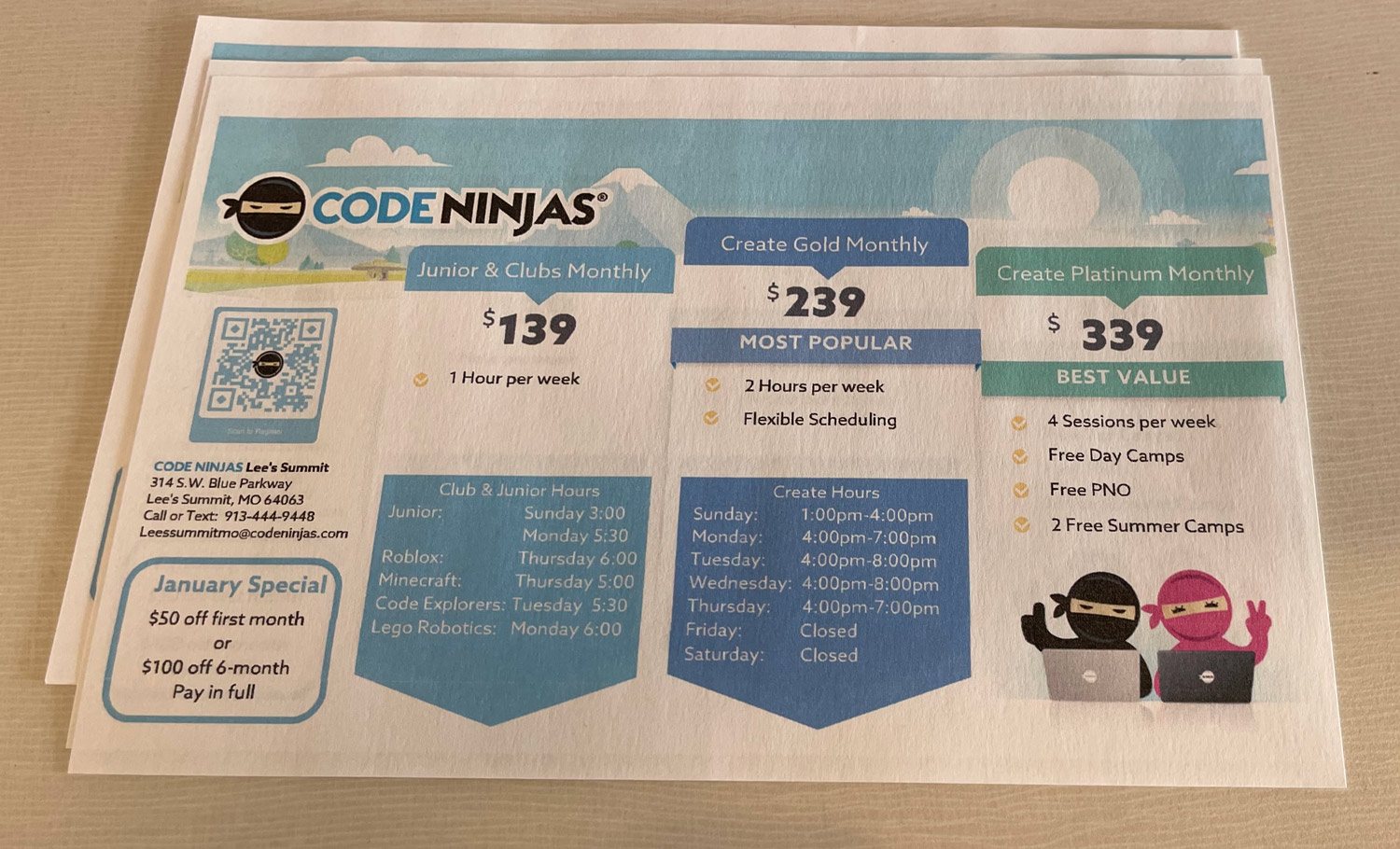 Summary
I am actually really happy that there are instructor led courses for coding and programming. Yes, they are definitely pricey. But if your family can afford it and you don't know how to code, this is a great way to get your kids learning programming and coding without you having to learn it yourself.
Code Ninjas is an amazing way to introduce your kids to computer science and the world of programming. It allows them to learn critical thinking and problem solving skills and learn one of the most common languages around the world.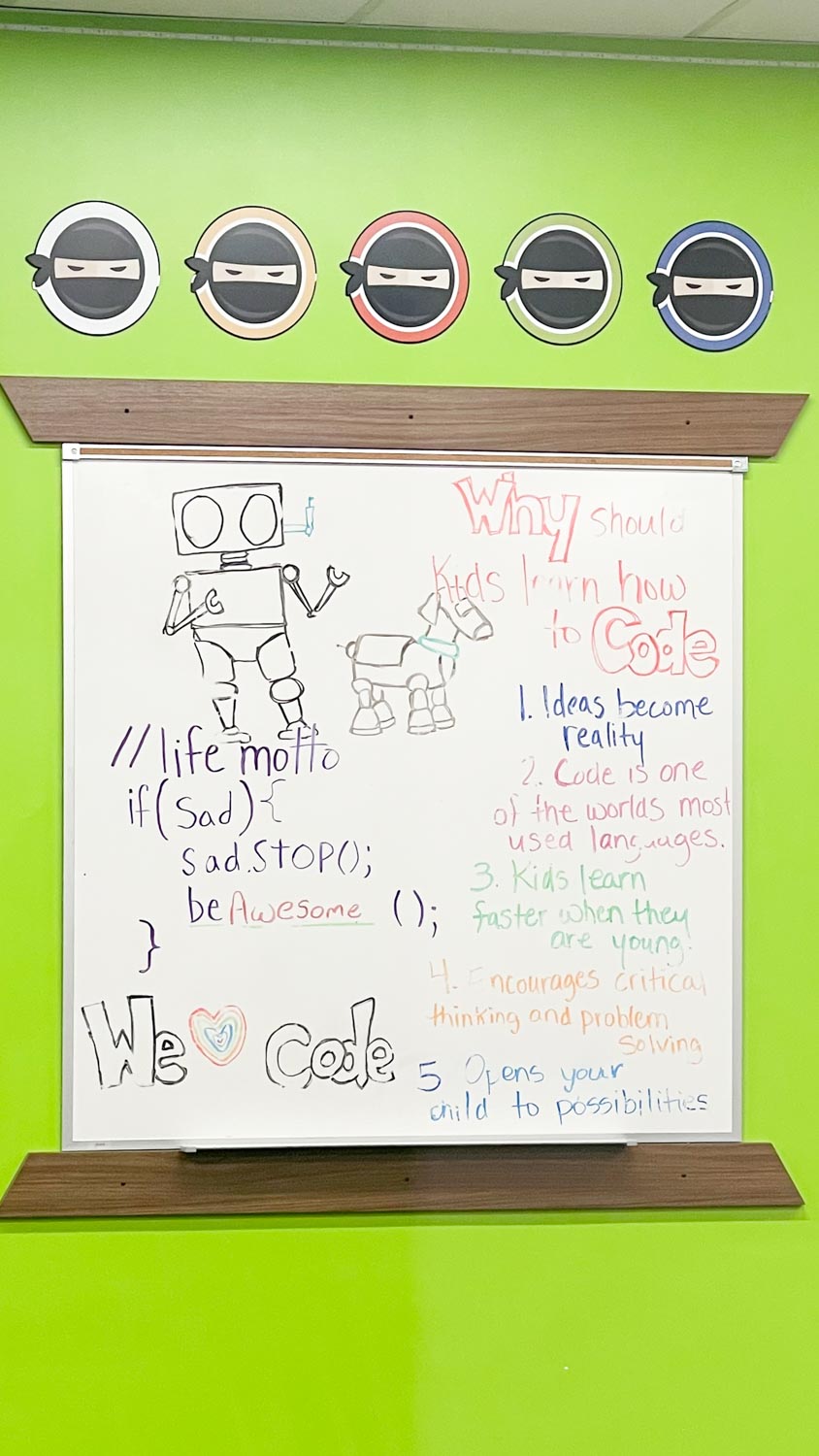 Other Structured Learning Programs
---
Many of the links on this blog are affiliate links. CodingIdeaswithKids.com receives a small comission when certain items are purchased, but the price is the same for you. CodingIdeaswithKids.com is a participant in the Amazon LLC Associates Program, an affiliate advertising program designed to provide a means for sites to earn advertising fees by advertising and linking to Amazon.com.